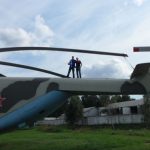 Donatas Design SUltimate XL Blueprints
1.00€
Blueprints of Donatas Design SUltimate XL, designed by Donatas Paužuolis
This product consists of downloadable PDF format drawings and step by step build manual in English language.
Description
Technical Information
Reviews (0)
Description
Sultimate is my most successful design, with it i won many top competitions in Europe. So taking original Sultimate it was already strong starting point. I spend about 6 weeks to redesign/build and test fly new SUltimate XL. I'm really happy with result plane is acceptable for outdoor flying even in windy conditions.
Most of RC aerobatic pilots i know love to fly foam airplanes indoor and like the way they fly. But wherever i travel i hear same story over and over again, it is very difficult/expensive to get access to halls. So my idea was to build outdoor 3D foamie for windy days, with same great flying characteristic's that we love in our indoor models.
For power setup i select AXI2217/20 engine with 25a CC Phoenix esc and 3S lypo pack, today such ore similar setup is really cheap, that i also had to have in my head during design. Here i present SUltimate XL and new video we made in Belarus, Minsk cold war air museum:
Donatas Design SUltimate XL
Wingspan: 100cm, Fuselage length: 107 cm
Target weight without battery should be 325 gr.
Recommended setup:
Motor: AXI 2217/20 (840kv) on 3S battery it has about 650g thrust.
Propeller: 11×4.7 or 12×5
ESC: Castle Creation Phoenix 25A
Batteries: 30C 3S Lipo. 450 mAh
Servos: each surface must have at least 1kg of torque
Hitec 65HB 4 pcs for all surfaces, Hitec 82MG is also possible option for elevator.
Recommended materials:
Depending on your building and flying skills, there is 3 options for material selection:
1 .Beginner builder and pilot. Use 6-10mm EPP sheets to cut parts, plane will be not so stiff/light, but it will forgive you hard landings and small impacts, and for sure will serve you longer time.
2.Average builder and pilot. Use 6mm depron, this is strong, but also heavier option. Milling bigger areas that are reinforced with carbon could be good way to save some weight.
3.Advances builders and pilots. Use 3mm depron, this is lightest materials, and building plane with right techniques and allot of carbon, you can reach pretty good weight and very good flying characteristic.
No matter what material you will select, I recommend to use fiberglass cloth, also use of carbon as it is shown in plans is necessary to have rigid plane that can withstand wind and hi G maneuvers.
Downloadable files:
After payment You will receive download link via e-mail. Download link will be active for 60 days and allows maximum 5 downloads. You will be able to download following:
Drawing PDF file. Drawing is tilled into 20 A4 format pages. After printing pages should be glued together according to marks on pages.
Manual PDF file. Consist of 8 pages illustrated step by step assembling manual and setup recommendations.
---
Only logged in customers who have purchased this product may leave a review.