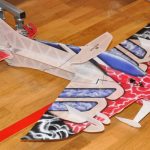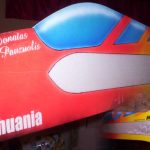 Donatas Design F3P Deluxe V3.5 Blueprints
1.00€
Blueprints of Donatas Design F3P Deluxe V3.5, designed by Donatas Paužuolis
This product consists of downloadable PDF format drawings.
Description
Technical information
Reviews (0)
Description
Dear friends,
I would like to introduce you one more new blueprint from Donatas Design, for real well known and great flying airplane Deluxe. Deluxe V3.5 was produced by Donuts models, new version is based on V3, only with few small changes that make plane more stable and acceptable for smaller halls. Also now it is much easier to set right Center of gravity.
With Deluxe me and my colleagues won and place well in many top F3P competitions in Europe. Deluxe is big and very stable plane, it is designed for pattern sequences without snap rolls and spins. I hope you will enjoy building and flying this plane as much as I did.
Plans and manual in English will be downloadable in PDF format (to open it you will need Acrobat Reader).
You will receive plans and my support if you will have some questions building plane.
Donatas Design F3P Deluxe V3.5
Wingspan: 93cm, Fuselage length: 96 cm
Empty weight: about 115g. RTF weight up to 150g.
Recommended setup:
Motor: AXI 2203/52
Propeller: 9×4.7 or 10×4.7 GWS or similar carbon
ESC: Castle Creation Thunderbird 6A
Batteries: 15g 2S Lipo. 200-300mAh
Servos: JR290G for ailerons, Hitec5035 or JR188 for elevator and ruder
Recommended materials:
I recommend to use lightest 3mm depron or extrupor you can get. This is pattern plane so low flying weight is important, I would also recommend to make deep milling on all parts of this plane.
To reinforce light depron structure about 7 meters of carbon rods will be necessary. Wing support can be done with 1mm carbon rod or tube. For rest fuselage reinforce use 0.5 or 0.7 mm carbon rods. Also I recommend to glue at least one flat 3mm 0.3 mm carbon on leading edge of the wing.
Downloadable files:
After payment You will receive download link via e-mail. Download link will be active for 60 days and allows maximum 5 downloads. You will be able to download following:
Drawing PDF file. Drawing is tilled into 15 A4 format pages. After printing pages should be glued together according to marks on pages.
Assembly guide is placed right on drawing including necessary reinforcements, equipment placing and setup guide.
---
Only logged in customers who have purchased this product may leave a review.