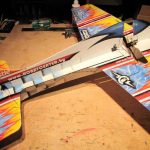 Donatas Design 4D Arrow V.3 Blueprints
1.00€
Blueprints of Donatas Design 4D Arrow V.3, designed by Donatas Paužuolis.
This product consists of downloadable PDF format drawings and step by step build manual in English language.
Description
Technical information
Reviews (0)
Description
I would like to introduce to you VPP (Variable pitch propeller) trainer Arrow V.3. It is project that started in 2006, and still continue today. During years this plane evolve and 6 th. version of this plane is released as kit for front mounted engine. However i find version Arrow V.3 best for beginners that want to try VPP flying.
This plane can perform many crazy maneuvers like: backward takeoff, inverted spin, ground touch with nose and so on. Naturally VPP flying is quite difficult and complex thing, so first for pilots who have not much experience with 3D or indoor flying, i suggest build Arrow V.3 with usual setup (motor mounted in front or in middle of wing with regular propeller). With such setup, you will get use to plane and its flying characteristics. Then you be ready to build second Arrow with Variable pitch propeller mounted inside fuselage.
I spend on this plane many hours and energy since late 2006 year, till it start flying so well. You will get 13 pages detailed plans, 6 pages manual with main information/pictures for right equipment selection and installation, plane assembly and radio setup.
Plans and manual are downloadable in PDF format (to open it you will need acrobat reader).
Donatas Design 4D Arrow V3
Wingspan: 87cm, Fuselage length: 93 cm
RTF weight up to 180g.
Recommended setup:
Motor: Slowflyworld.de ; DW6/21-Ag (2 cells) (21-22g)
Propeller: Slowflyworld.de ; VPP blades "carbon-deluxe"(11,2g)
ESC: Castle Creations Phoenix 10A
Batteries: 2S Lipo. 400 mAh
Servos: JR290G for ailerons, Hitec5035 or JR188 for elevator and ruder, Hitec5035 for pitch
Recommended materials:
For all parts except horizontal nose and elevator i use Extrupor (some call it Elapoor), its little lighter than 3mm depron. In any case nose and elevator must be made from depron for stronger construction and longer life. If you don't have chance to get Extrupor, don't worry and build your plane from depron, it will be little heavier but much stronger. One more material you will need for good construction, is 5mm EPP
To reinforce light depron structure about 7 meters of carbon rods will be necessary. Wing support can be done with 1mm carbon rod or tube. For rest fuselage reinforce use 0.5 or 0.7 mm carbon rods. Also about 4 meters of flat 3mm 0.3 mm carbon is needed to reinforce edges of various surfaces.
Downloadable files
After payment You will receive download link via e-mail. Download link will be active for 60 days and allows maximum 5 downloads. You will be able to download following:
Drawing PDF file. Drawing is tilled into 13 A4 format pages. After printing pages should be glued together according to marks on pages.
Manual PDF file. Consist of 6 pages illustrated step by step assembling manual and setup recommendations.
---
Only logged in customers who have purchased this product may leave a review.