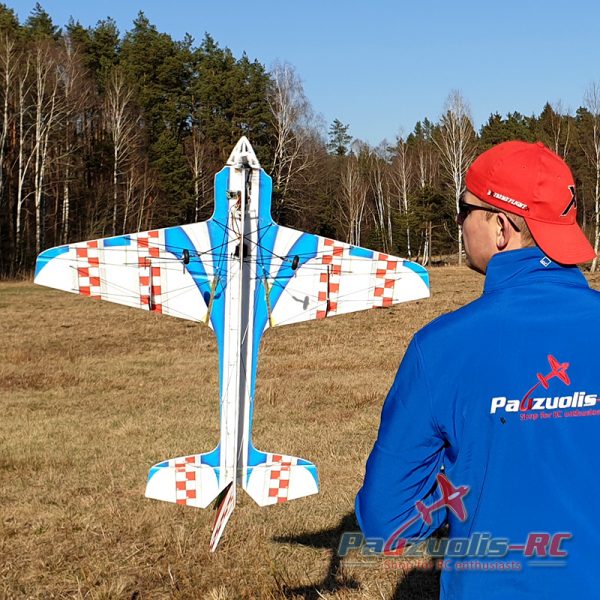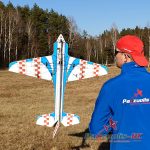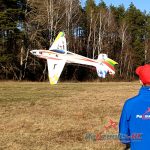 Arrow 3D Trainer
75.00€ – 179.00€
Arrow 3D trainer is ideal parkflyer to learn 3D aerobatic. Superb flight characteristic's and material/structure durability will ensure many hours of joy in the air.
Kit includes:
Laser cut 5 mm PP foam parts, 3 mm 5 mm PP foam parts
Reinforced fiberglass hardware.
Carbon fiber profiles and rods.
Wheels and accessories.
Equipment combos (Budget or Performance) can be selected as an option.
Description
Technical information
Manuals
Reviews (1)
Description
Arrow 3D Trainer introduction:
For many years I keep improving my own design – Arrow . This plane flying capabilities allow me to reach many top positions in various aeromusical competitions. Highlight in 25 year career was victory in World Air Games 2015 and World F3P-AM championship in Greece 2019 . Many people over the years ask me to produce user friendly version of this plane that would be suitable for outdoor flying. I hesitate to do this because I did not see suitable material until now.
PP foam:
I really like depron foam, it works good for indoor models, but for outdoor use it was to fragile. I am also not a fan of widely used EPP material. EPP foam has some down sides. It's surface is not very good for printers. Ink penetrate EPP foam and as a result model become not very bright. On top of that EPP is bit heavy and not that strong after all, after some hardcore flying EPP "bubbles" start to separate and air frame lose it's rigidity. Because of this flight precision suffers. During one of my trips to China I discovered new type material called PP foam. It was available in various thicknesses from 0,1 mm to 10 mm. On top of that it was unbelievable strong and had really smooth surface as depron. After many tests, we find out that 5 mm PP foam has best weight to strength ratio.
Color scheme design:
Color scheme for this airplane is "mix" that was inspired from my competition and show models. Printers capable of printing photo quality pictures were selected. You will find many small shadows and other details on this gorgeous color scheme. Top and bottom have distinctive/different patterns. It is very well visible in flight and it is easy to see where is the top and bottom of the airplane. This color scheme also has some small references to the amazing World Championship that was held in Greece in spring of 2020.

Arrow 3D Trainer kit come in 4 options:
Option one: Kit only ( 69 eur ):
5 mm Foam parts:
3 mm Foam parts:
Composite materials (Carbon rods and profiles):
5 x 0.5 mm – 2 meters strip (Carbon fiber).
3 × 0.13 mm – 1 meters strip (Carbon fiber).
1.3 mm – 2 meters (Carbon fiber rod).
1 mm – 5 meters (Carbon fiber rod).
1.5 mm – 1,5 meter (Carbon fiber rod).
2 mm – 0,5 meters (Carbon fiber tube ).
Fiberglass hardware/wheels/accessories:
Option two: Kit + Performance combo ( 155 eur ):
Only kit parts and following equipment:
Motor: Brushless T-Motor AT2306 1900 kv ( 28 grams)
Propeller: Carbon PT 8,5 x 4 i ( 2,4 grams)
ESC: Castle Creation Talon 15 A ( 11 grams with wires)
Separately recommended battery 3S Lypo 600 mah
Option three: Kit + Budget combo (95 eur)
Motor: FAFA XC2802/44 ( 20 grams)
Propeller: Plastic GF 8 x 4.3 ( 5 grams)
ESC: Hobbywing Skywalker-12AE (10 grams with wires)
Separately recommended Battery: Lipo battery 450 mAh 3S1P 11.1 Volts 65C 44g, Dinogy
Option four: Fully assembled ARTF version. To place order and arrange build details, price + delivery questions please write to us via email: [email protected]
More video:
Arrow 3D Trainer capabilities with T-Motors AT2306 1900 kv motor.
Arrow 3D trainer specification:
Wingspan: 84 cm, Fuselage length: 90,5 cm
RTF weight 230 -270 gr. (7.7-9.5 oz.) depending on setup.
Model build time is 5-10 hours.
Skills required to assemble the plane – medium.
Skills required to fly the plane – medium.
Glue:
One more advantage of PP foam, it can work with any glues, it is not "afraid" of aggressive CA glues.
Flexible Uhu Poor glues.
Recommended equipment
Option Two: (Performance combo) have insane thrust and speed for more windy days.
Option Three: (Budget combo) is good way to setup your model with affordable motor and ESC. (It is bit lighter and also possible to fly indoors in bigger halls)
In both cases you end up saving some money while purchasing full combo instead of obtaining each part separately!!!
Servos
In our prototypes we tested these servos with great results:
Hitec 65HB
Hitec 65MG
Spectrum 3030
Spectrum 3040
MKS HV75K
You can use other servos with similar technical data.
Remote control system
Minimum 4 Ch proportional radio control system is required. In order to fly model to it's full potential, computerized transmitter radio with Dual rates, Flight modes, Exponents, Mixes and Throttle curve is recommended.
Building thread on RC Groups forum.
Step by step video manual will be available at the end of April.
---
Only logged in customers who have purchased this product may leave a review.