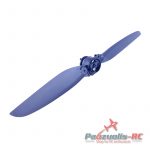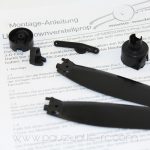 Mamo Upside-Down VPP system 8″ diameter
59.00€ – 69.00€
This is original Mamo Upside-Down variable pitch propeller unit designed by Martin Müller.
For 4D models with optimal recommended weight up to 160 grams. Maximal recommended weight of aircraft model is 340 grams.
Kit includes
8″ blades (according to chosen option) – 1 set;
Propeller hub with pitch adjustment mechanism for 3,17 mm diameter shaft – 1 set;
User manual.
Weight of assembled unit – 10,6 g
Warnings:
These are being sold as professional sports equipment only and buyer should assume all liability and risk when using this product as well as the dangers of Variable pitch!
Motor mount or motor not included
Description
Downloads
Reviews (0)
Description
Mamo Upside-Down VPP system
Since its first release 10 years ago Mamo Upside-Down VPP thrust system, designed by F3P legend Martin Müller, was choice number One among top pilots for indoor 4D planes. Made out of robust materials like ABS plastic, CNC machined aluminum and carbon fiber this system is highly resistant for crashes being light weight on the same hand.
Unique design of this system provides series of important features:
Mamo Upside-Down VPP unit does not require motor with hollow shaft, therefore opens possibility to choose any desired motor with 3,17 mm diameter shaft (or 3 mm optional). We recommend to choose among these motors:

AXI 2203/40 VPP V1 or V2;
AXI 2203/RACE V2;
For 3s AXI 2204/54 V1 or V2;
For 3S AXI 2204/RACE V2 (for insane performance).

Design of Mamo unit allows it to use in complementary with trust vectoring system.
Parts replacement in case of crash are very easy procedure.
I use Mamo Upside-down units in my Aeromusical F3P competition planes almost from their release. With this marvelous unit I was able to become Aeromusical world champion in 2019 in Greece and also secure world air games champion title in 2015 World air games.
Here is my favorite F3P-AM routine where I use Mamo variable pitch together with thrust vectoring.
---
Only logged in customers who have purchased this product may leave a review.