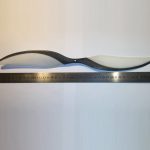 Alexey Lantsov 16 inch props for coaxial system
115.00€
Set consists of 2 pcs (right and left turn)
Weight per set – 5.1 grams (±0.3 grams)
For Alexey Lantsov coaxial thrust systems:
Thrust from 0-to 200 grams
Shipping time up to 3 weeks
Description
Alexey Lantsov 16 inch props is Alexey's answer to one of the main questions in today's F3P: "How to brake in down lines effectively and generate efficient thrust with the same propellers?"
Propellers are near 50 mm in width for better breaking characteristics. Also as we already expect from Alexey, design is created using computer modelling and then transferred to moulds via CNC machinery.
But cherry on the cake here is simply incredible thrust efficiency for such a wide propellers. In video below you can see Alexey performing AP-19 and AF-19 sequences IN A ROW ON THE SAME CHARGE of 120mAh 1S.
And Donatas AF19 shedule. Would you notice 2 big mistakes here :)
---
Only logged in customers who have purchased this product may leave a review.