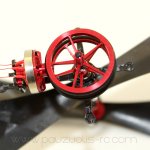 AL13-150/13 2S coaxial thrust system
315.00€
System wieght 13.5g +-0.5g
Input voltage up to 8,4 V 2S Lipo
100-200 mah 2s lypo battery is recommended.
Propeller size 13 inch
Propeller built from carbon.
Description
Manuals
Reviews (0)
Description
AL13-150/13 2S coaxial thrust system introduction
AL13-150/13 2S coaxial thrust system already competition proven unit. Alexey developed this system for use with heavier F3P planes (~80 grams (+-10g) RTF weight ). Motors have special winding for 2S lypo. 13 inch propellers are reinforced to withstand higher RPM's. . Each part designed lightest possible way leaving required margin of strength. Being state of the art equipment, Alexey Lantsov coaxial systems are very straight forward to use. Requires almost no maintenance and adjustment (only replace O rings of friction gear every few hundred flights). Just screw on, solder wires and ready to fly.
AL13-150/13 2S features and benefits:
Only best materials (CNC machined high grade aluminum alloys, titanium, carbon fiber) to produce AL coaxial units. Alexey coaxial units are recognizable worldwide by its signature red color and rubber friction gears . Friction gear was not accidentally chose by Alexey. Having in mind that during thousands of flights crashes do happens even for most experienced pilots. When teeth s of simple gears tend to rip during crash, friction gear simply slips saving whole unit. In addition to this another important feature of Alexey's friction gear is its quietness. Hard to hear motor whiz creates atmosphere of peace and full concentration in a hall. Who knows, maybe it could make positive impression on judges. Coaxial unit benefits:
Torque moment of propellers are equal/compensated. As result in torque roll maneuver airplane perform left and right rolls equal.
torque rolls could be done both directions which is a must for final sequences
Planes behave/fly more stable since airflow created by contra rotating props is less turbulent.
Programming of radio takes less time, since less mixing needed.
Many maneuvers (Tail slide, loops, rolls, knife edge flight) are noticeably easier to perform.
Contra-rotating propellers have been found to be between 6% and 16% more efficient than normal propellers.
AL13-150/13 2S coaxial thrust system in use at World F3P championship. This unit help to achieve podium placing.
---
Only logged in customers who have purchased this product may leave a review.