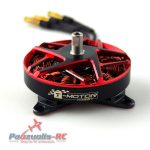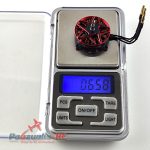 AM30 V.2 KV1450 by T-Motor
26.50€
AM30 V.2 KV1450 spec's:
Motor dimensions: 29 x 16.6 mm
Internal resistance: 204 mΩ
Prop adapter: 5,5mm
Rates voltage: (Lypo) 2-3 S
Max Power: (180S) 172 W
Peak current: 13,7 A
Recommended light propellers: Symmetrical Carbon 8 x 4
Description
AM30 V.2 KV1450 by T-Motor introduction:
AM30 V.2 motor is unique design that packs huge power in a small package. This motor is designed with performance in mind and produced by famous T-Motor factory in China. T-Motor is really innovative factory, that work closely with top F3P pilots to develop competition ready equipment. AM30 is robust engine that weight is bellow 19 grams weight, yet with good 3S lypo battery it delivers stunning performance. With good spec's carbon propeller, this motor will shine, and deliver more than 600 grams of thrust.
AM30 1450KV motor advantages:
19g motor is best suited for 80g—180g Class F3P Indoor Competition Aircrafts made from EPP, Depron or Carbon.
Large (29 mm) diameter design: push performance to the MAX at same time keeping engine really cool.
Motor is designed for 4D flying, with special ESC you can easily switch motor rotation direction. Achieving same crazy thrust for flight forward and backward!
Very well balanced and smooth running motor.
Super smooth start procedure.
Low noise and vibrations.
Rigid yet light weight construction.
Top materials.
Probably best quality /price ratio.
AM30 in action:
F3P World championship in Jonava, Lithuania. Aeromusical class Champion, model powered by AM30 motor.
---
Only logged in customers who have purchased this product may leave a review.